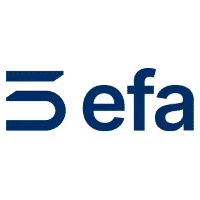 IFRS Consolidation Accountant at European Fund Administration (EFA)
Luxembourg, Luxembourg 1122
European Fund Administration S.A. (EFA) is an independent company servicing investment funds, unit-linked insurance products, private equity funds, real estate funds, hedge funds and funds of hedge funds.
EFA is one of the leaders of the outsourcing market in Luxembourg, Europe's largest fund center.
EFA's range of services includes: Net Asset Value calculation, bookkeeping and portfolio valuation, transfer agent and registrar services, fiscal services, compliance and risk management, performance measurement and attribution, domiciliation and reporting solutions.
EFA is present in Luxembourg and in Paris (via EFA France). More information is available at www.efa.eu.
EFA's shareholders are KBL European Private Bankers S.A., Banque de Luxembourg S.A., Banque et Caisse d'Epargne de l'Etat, Oddo BHF and EFA Partners S.A.
For its Private Asset IFRS/Consolidation department, EFA is looking to recruit a:
IFRS Consolidation Accountant (m/f)
Responsibilities and duties:
· Executing monthly, quarterly and yearly consolidations for Private Assets structures, under Lux GAAP and IFRS ;
· Help lead the implementation of best practices on consolidation team to simplify, standardize and scale our organization ;
· Preparing, reviewing and analyzing inter-company account reconciliations as well as flow analysis ;
· Support external audit requirements related to specific areas of responsibility and help develop / refine our accounting process and procedures ;
· Assisting in special projects as needed.
Your profile:
University degree in Accounting/Finance ;
3 to 5 years of experience in a similar position (consolidation environment), as well as experience with accounting in foreign currencies ;
Experience with Sigma Conso is essential ;
Experience in the preparation and review of IFS Financial Statements (as well for consolidated and stand-aloneaccounts);
Sound Knowledge in IFRS
Excellent time and self-management skills, ability to prioritize and multitask to meet deadlines ;
Strong analytical and communication skills ;
Must be willing to work as part of a team in a dynamic high quality client service focussed environment ;
Highly organised, strong interpersonal skills and self-motivated ;
Fluent in French and English. German is an asset.
We can offer you:
Varied work as part of a dynamic and ambitious company that has been established in the Grand Duchy of Luxembourg for 20 years ;
An attractive remuneration scheme: Company Agreement, 33.5 days' leave, meal vouchers, life and disability insurance, supplementary pension scheme, interest subsidies, a Sympass card, offices located close to the Luxembourg Central Station, etc.
Interested ? Should you feel your profile suits the above description, please send your application letter and CV, quoting the position "PAS/CONSO/2019-06" to: recrutement@efa.eu
N.B.: In order to meet the worthiness criteria provided for in Article 45 of CSSF Regulation No. 12-02 of 14 December 2012 on anti-money laundering and the financing of terrorism, candidates concerned will be asked to produce a recent extract of their criminal record no later than their first day of employment. This document will be dealt with in accordance with the Law of 23 July 2016.
As part of the recruitment process, EFA may collect and process candidates' personal data. This data will be stored for processing purposes for the period required by law. Candidates may assert their right to access, correct or delete their personal data in accordance with the applicable legal provisions, and in particular with the provisions of the General Data Protection Regulation (GDPR) (Regulation (EU) 2016/679 of the European Parliament and of the Council of 27 April 2016) and in accordance with the Luxembourg Act of 2 August 2002 concerning the protection of individuals with regard to the processing of personal data. To do so, they must send an email to dpo@efa.eu.