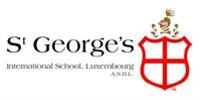 Personal Assistant to Head Teacher (Secondary) at St George's International School Luxembourg asbl
Luxembourg-Hamm L-2328
St George's International School Luxembourg is an inclusive and vibrant international school of approximately 810 students aged from 3 to 18+ years, representing over 50 different nationalities. We pride ourselves on enabling each student to achieve their full potential.
St George's International School Luxembourg is currently looking for a:
Personal Assistant to the Head Teacher (Secondary)
(40h/week)
Temporary Contract from November/December 2019 until November 2020
Job Purpose:
To be jointly responsible for the day-to-day work of the Secondary School office, which promotes the safety and welfare of the students, during on-site and off-site activities.
To promote the aims and objectives of the school, liaising with staff, students, parents, and outside agencies.
Your tasks:
Construction and updating of the Secondary School calendar and appointments for the Head Teacher (Secondary).
Maintain the Head Teacher (Secondary) and staff bulletin boards.
Responsibility for daily communication: responding to enquiries from parents, students, visitors, teachers and outside agencies.
Organisation of interview days for candidates, making travel arrangements.
Ordering office/school supplies.
Serving as administrative liaison for staff members reporting to the Head Teacher (Secondary).
Providing administrative support, which includes but is not limited to: organising the the Secondary office, filing, correspondence, organising staff meetings as well as Parent-Teacher-Student conferences and Information evenings, arranging half-termly meetings with staff members, performing student registration, allocating lockers to students, etc.
Keeping Secondary communication up to date using Twitter, School App and Parent portal.
Provide administrative support to Secondary staff.
Review & update Secondary documents.
Organisation of Secondary School Trips (through booking travel and accommodation, etc.)
Organisation of Staff Training.
Act as the Exams Assistant, helping and providing cover when required.
Other ad-hoc duties, such as taking meetings minutes.
Your profile:
Proficient English.
Computer literate: Word, Power Point, Excel, Outlook and Explorer.
Excellent communication skills, oral and written.
Confidential and flexible approach.
Safeguarding and Promoting the Welfare of Children and Young People
The School is committed to safeguarding and promoting the welfare of children and young people and expects all staff and volunteers to share this commitment.
All employees will be required to be security cleared, which may take the form of an extract of Luxembourg "casier judiciaire" and/or an International Child Protection Certificate (ICPC). Our policy is also to actively seek confidential references including one from the last employer.
Interested?
Please apply in writing with your CV and covering letter in English to:
Mr Fleet, Head Teacher (Secondary)
recruitment@st-georges.lu